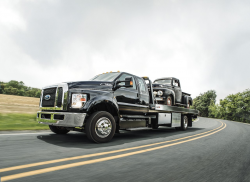 — Ford is recalling about 1,500 F-650 and F-750 trucks with hydraulic brake systems that are missing corrosion protection plating on metal caps for the brake hoses.
The 2018 F-650 and F-750 trucks have primary and secondary brake circuit hose assemblies that are located between the master cylinders and the hydraulic control units.
The automaker says the metal caps for the hoses are missing the corrosion protection. Ford says the metal caps attach flexible braided steel brake hoses to metal tubes, so any corrosion to the caps can cause brake fluid to leak.
About 1,474 of the recalled trucks are in the U.S. and another 11 are in Canada, and all were built in Ohio between January 26, 2018, and March 13, 2018.
Brake fluid leaks will cause reduced braking, but the automaker says there have been no reports of crashes or injuries.
Ford dealers will replace the brake hose assemblies with parts that have corrosion protection when the recall begins in July 2018.
Owners of the recalled 2018 F-650 and F-750 trucks may call the automaker at 866-436-7332 and use reference number 18S19.
Ford recalled 2018 Ford F-650 and F-750 trucks last month because of problems related to braking, but the May recall was issued to fix parking brake cables that weren't adjusted properly at the assembly plant.
CarComplaints.com has complaints about multiple Ford truck models.