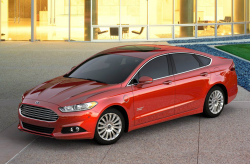 — Ford is recalling more than 50,000 Fusion Energi, C-MAX Energi and Focus Electric vehicles because of possible fires from the 120-volt charging cords and electrical outlets.
The 2012-2015 Ford Focus Electric, 2013-2015 Ford Fusion Energi and 2013-2015 Ford C-MAX Energi vehicles were originally provided with the 120-volt cords, but Ford says plugging the cords into an electrical outlet can overheat the outlet.
The automaker says overheating can occur if the electrical AC outlet is not on a dedicated circuit or if the outlet is corroded or worn.
Ford says it is aware of "some fire reports" but didn't say how many.
The recalled Focus Electrics were built September 15, 2001, to March 14, 2015. The Fusion Energi vehicles were manufactured September 4, 2012, through March 5, 2015, and the C-MAX Energis were produced from April 13, 2012, to March 14, 2015.
Ford says 49,197 of the vehicles are in the U.S. and more than 1,300 are in Canada.
The automaker didn't say when the recall will begin, but affected Ford owners will be mailed reminders about correct outlets to use with the charging cords, including reminding owners never to use extension cords.
Owners will also be advised to take the vehicles to Ford dealers to have the 120-volt cords replaced with different cords that include "thermally sensitive resistors," or thermistors.
A thermistor can identify if overheating occurs where the plug enters the outlet and will shut off all charging until the high temperatures decrease to appropriate levels.
If you own a recalled Ford Fusion Energi, C-MAX Energi or Focus Electric, feel free to call the automaker at 866-436-7332 and refer to number 18S24.
CarComplaints.com has complaints from drivers of the Ford Fusion Energi, Ford C-MAX Energi and Ford Focus Electric.