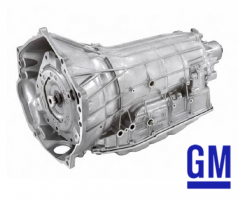 — A General Motors 8-speed transmission lawsuit alleges fixes offered by the automaker haven't solved problems with hard shifting, shaking, jerking, hesitating and shuddering.
The proposed class-action lawsuit includes all consumers who purchased or leased the following vehicles in California, Florida, Illinois, New York, Oklahoma and Texas:
2015-2019 Chevrolet Silverado
2017-2019 Chevrolet Colorado
2015-2019 Chevrolet Corvette
2016-2019 Chevrolet Camaro
2015-2019 Cadillac Escalade
2015-2019 Cadillac Escalade ESV
2016-2019 Cadillac ATS
2016-2019 Cadillac ATS-V
2016-2019 Cadillac CTS
2016-2019 Cadillac CT6
2016-2019 Cadillac CTS-V
2015-2019 GMC Sierra
2015-2019 GMC Yukon
2015-2019 GMC Yukon XL
2015-2019 GMC Yukon Denali XL
2017-2019 GMC Canyon
The GM vehicles are equipped with GM 8L45 or 8L90 automatic transmissions that allegedly hesitate when drivers accelerate or decelerate. Drivers claim the transmissions can shift so hard it feels like being hit by another vehicle. One owner claims the GM transmission shifted from REVERSE to DRIVE so harshly the vehicle almost went through the garage door.
Every "fix" offered by the automaker has allegedly failed to repair the shaking, shuddering and jerking, and the plaintiffs claim both the torque converters and transmissions cause problems with the hydraulic systems and gears.
Court documents claim metal shavings allegedly circulate throughout the transmissions and damage the components. Additionally, the plaintiffs claim the 8-speed transmissions cause consumers to face expensive repairs to flush the systems, and to replace the valve bodies, torque converters and finally the transmissions.
According to the proposed class-action lawsuit, General Motors has allegedly known about the 8-speed transmission problems because the automaker has issued multiple versions of technical service bulletins (TSBs) about the transmissions.
GM dealers have been told to perform certain repairs to fix the transmission issues, including performing the "clutch drive learn procedure, replace the valve body, replace the entire transmission, flush the cooler lines and cooler, remove debris from and clean the transmission pan, replace the transmission filter, replace the transmission fluid, and flush the transmission."
The lawsuit alleges no fix works and GM is fully aware of it, something allegedly reflected on repair orders. The plaintiffs say repair notes indicate, "GM is aware of concern and a release date of late January/February to correct issue." Another repair order allegedly said, "no repair available until quarter 1 in 2019."
According to the lawsuit, General Motors is doing nothing but stalling, buying time until vehicle warranties expire. The automaker also allegedly conceals from consumers the serious problems with the 8-speed transmissions even though dealers have been told.
GM issued a preliminary information bulletin (PIP5337) to dealerships about 8L90 transmissions entitled, "Shake or Shudder on Acceleration Excessive Engine RPM Fluctuation."
The bulletin covered 2015-2016 Cadillac Escalades and Escalade ESVs, 2015-2016 Chevrolet Silverados and 2015-2016 GMC Sierras, Yukons and Yukon XLs. GM told technicians that customers may report, "A shudder feeling that may be described as driving over rumble strips or rough pavement."
"These conditions may be caused by an internal torque converter issue. A revised torque converter that addresses these conditions will be available soon."
In June 2016, GM issued TSB 16-NA-014, entitled "Delayed Engagement After Sitting With Engine Off" about 8L45 and 8L90 transmission. Technicians were told customers may complain about multiple issues: "Vehicle delaying into gear," "Not wanting to move," "Feeling like the transmission is slipping," or "Delayed engagement followed by a harsh engagement."
"This condition may be caused by the torque converter draining the transmission fluid back into the transmission pan."
Technicians were told to replace parts of the transmission or pan.
The plaintiffs claim the automaker knew the 8-speed transmissions were wearing out early and causing metal shavings to build up in the transmission pans. This is allegedly reflected in TSB 16-NA-175 entitled, "Shake and/or Shudder During Light Throttle Acceleration, Between 48 and 104 KM/H (30 and 65 MPH) at a Steady State."
GM technicians were told vehicles equipped with 8L90 transmissions could experience "A shudder feeling that may be described as driving over rumble strips or rough pavement." Technicians were advised to flush the transmission with new fluid and "clean the pan/magnet if any metallic particles present and replace filter if debris is found."
Another bulletin was issued in December 2017 allegedly claiming transmission shudders affected all 2015-2018 "GM passenger cars and trucks" equipped with 8L45 or 8L90 transmissions.
According to the lawsuit, GM technicians have also been told:
"Do NOT replace the torque converter or transmission assembly for this condition. Engineer reviews have proven that replacing the torque converter does not provide a long-term solution to TCC [torque converter clutch] shudder. A revised service procedure will be released in Q1 of 2019. If the vehicle experiences a repeat shudder condition, this document should be followed again."
The plaintiffs also claim the automaker says the automatic transmissions are "adaptive" and need to "learn" the individual driving habits in order to shift smoothly.
The General Motors 8-speed transmission lawsuit was filed in the U.S. District Court for the Southern District of Florida - Duffy, et al., v. General Motors, Inc.
The plaintiffs are represented by Cohen Milstein, and Gordon & Partners.
CarComplaints.com has owner-reported complaints about the GM vehicles named in the proposed transmission class-action lawsuit.