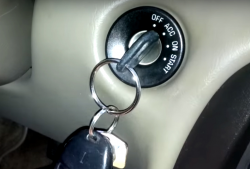 — Arizona consumers who were affected by faulty ignition switches in General Motors vehicles will receive refunds of at least $200 each after the attorney general and GM agreed to settle state charges.
The $6.28 million will be paid to about 33,000 GM owners in Arizona, as long as they purchased the vehicles between July 2009 and July 2014 and didn't get rid of the vehicles before the ignition switch recalls were announced in 2014.
Additionally, owners must have purchased the following vehicles new or certified "pre-owned" from Arizona General Motors dealers.
2008-2013 Buick Enclave
2005-2009 Buick Lacrosse
2006-2011 Buick Lucerne
2003-2014 Cadillac CTS
2000-2005 Cadillac Deville
2006-2011 Cadillac DTS
2004-2006 Cadillac SRX
2010-2014 Chevy Camaro
2005-2010 Chevy Cobalt
2006-2011 Chevy HHR
2006-2014 Chevy Impala
2004-2006 Chevy Malibu
2004-2006 Chevy Malibu Maxx
2006-2008 Chevy Monte Carlo
2009-2013 Chevy Traverse
2008-2013 GMC Acadia
2007-2010 Pontiac G5
2006-2010 Pontiac Solstice
2003-2007 Saturn Ion
2008-2010 Saturn Outlook
2007-2010 Saturn Sky
After a 10-year deception, GM started recalling millions of vehicles in 2014 to fix ignition switches that killed and injured hundreds of people. The defective ignition switches could move out of the "Run" positions and into the "Off" or "Accessory" positions with simple bumps to the key rings or from driving on rough roads.
Drivers lost power to the vehicles, including to the power brakes, power steering and sometimes to the airbags.
Arizona originally sued the automaker in 2014, but the lawsuit made no claims that would have required payments direct to Arizona customers. The attorney general amended the lawsuit and skipped out on a multistate settlement that would have gained Arizona about $2 million.
In addition to customers receiving money, the state will receive $1 million from General Motors.
If the proposed settlement is approved by the court, affected GM owners will see a minimum of $200 each, but payment amounts will depend on the number of claimants and the alleged defects that affected each consumer's vehicle.
Arizona customers should do nothing until the court gives final approval, at which time GM will appoint a claims administrator to start refunding customers.
Attorney General Mark Brnovich says no other state sued for refunds direct to GM customers.