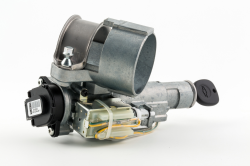 — General Motors received bad news in court when a federal judge ruled vehicle owners in numerous states can sue for economic loses for ignition switch defects, even if those customers didn't suffer any problems with the switches.
The litigation concerns defective ignition switches that are attributed to hundreds of deaths and injuries. GM concealed the defects for at least 10 years as drivers experienced stall cars, no power steering, no power brakes and in some cases no airbags.
A bump to the key ring is all it takes for the ignition switch to move from the "run" position to the "accessory" or "off" position.
Judge Jesse Furman ruled on claims of "manifest defects," or what claims can proceed based on if the defect manifested itself to a customer. The consolidated lawsuit is a massive 1,700 pages of arguments that GM should pay any vehicle owner who owned a recalled car equipped with bad ignition switches.
The judge had his work cut out for him by investigating state-based laws concerning lost personal time for dealing with the switches, consumer protection and fraud laws and claims about implied warranty violations.
The judge looked at whether a manifest defect is required for a vehicle owner to recover their economic losses under the laws of 27 jurisdictions, and whether a GM owner can recover damages for their "lost time" (time lost in repairing their vehicle) under the laws of 47 jurisdictions.
The judge concluded manifestation is not required in most states to sue GM over common-law fraud, implied warranty and consumer protection claims.