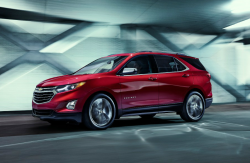 — General Motors is recalling about 230,000 vehicles in the U.S. and Canada to fix issues with the braking systems.
About 210,600 of the following recalled vehicles are in the U.S. and more than 19,300 are in Canada.
2018-2019 GMC Terrain
2018 Chevrolet Malibu
2018-2019 Chevrolet Cruze
2018-2019 Chevrolet Equinox
2018-2019 Chevrolet Volt
2018-2019 Chevrolet Impala
2018-2019 Chevrolet Bolt
2018-2019 Buick LaCrosse
2018-2019 Buick Regal
2018-2019 Cadillac XTS
GM says some of the recalled vehicles have rear brake caliper pistons that have hydrogen gas trapped inside that could be released into the brake systems. ZF, the manufacturer of the brake pistons, didn't properly temper and chrome-coat the pistons, causing hydrogen gas to remain trapped in the bodies of the pistons.
Drivers should notice soft spongy brake pedals, although GM claims stopping distances may not be affected.
ZF told the automaker all trapped hydrogen gas should be released within 23 days of a vehicle being built but will be noticeable to a driver within 15 days of assembly.
General Motors didn't say when the recall will begin, but dealers are expected to bleed the braking systems.
CarComplaints.com will update this page when more details are released.
Fauty brake caliper pistons have caused other automakers to order similar recent recalls, including Mercedes-Benz that ordered a recall of 9,000 vehicles, a recall of BMW vehicles, a VW recall of 10,000 vehicles and a recall of about 154,000 Chrysler vehicles.
Read complaints about the models named in the GM recall: