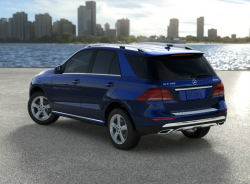 — Mercedes-Benz is recalling more than 9,000 vehicles that may experience brake problems while driving.
Recalled are the 2018 Mercedes-Benz GLE350 4Matic, GLE350, GLS450 4Matic, GLS550 4matic, GLE43 AMG 4Matic, GLE63 AMG 4Matic, GLE63S AMG 4Matic and Mercedes GLS63 AMG 4Matic.
The automaker says the rear brake caliper pistons suffered from problems during manufacturing which causes gas to release into the rear brake hydraulic circuits.
Mercedes says the supplier made mistakes when applying coating to the pistons and those mistakes may cause drivers to lose braking performance.
Mercedes says the supplier, ZF Group, didn't follow specifications when coating the caliper pistons and the trapped gas in the brake piston material can cause the brake pedals to travel too far toward the floorboards.
Dealers will need to bleed the rear axle brake systems when the recall begins in September 2018.
Customers with questions should call the automaker at 800-367-6372.