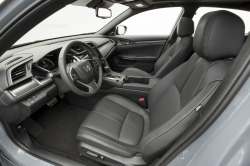 — Honda is recalling 69 Honda Civic Hatchbacks because improperly manufactured seatback pads may interfere with how the side airbags deploy in a crash.
The automaker says the faulty seatback pads were supplied to Honda as replacement parts that were then installed in the cars. However, the pads were made without the required openings on the sides to allow the side airbags to inflate properly.
Honda says the defective seatback pads were discovered during parts inventory, but no reports of complaints, crashes or injuries have been reported.
The automaker will replace one or both front seatback pads when the Civic Hatchback recall begins in June 2018.
Please call Honda at 888-234-2138 with questions about the seatback pad recall.