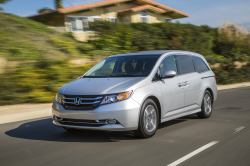 — A Honda Odyssey fire has caused an insurance company to sue Honda after the insurer paid for damage to the 2015 minivan and the property of the policyholder.
According to the lawsuit, Metropolitan Property and Casualty Insurance Company says Honda owes for damages because the minivan caught on fire, but the lawsuit doesn't make a claim how the fire started.
Based on court documents, the fire caused a total loss to the minivan and losses to the property and its contents.
Based on data from the National Fire Protection Association, about 174,000 vehicle fires occurred in 2015 which led to 445 fatalities and $1.2 billion in damage. The Honda Odyssey has been part of those statistics as minivan owners have complained about their ordeals.
The driver of a 2011 Honda Odyssey complained their minivan had only 9,000 miles when the engine compartment was destroyed.
"My odyssey for some reason started a fire in the parking lot about 10 minutes after being parked after a short city drive. The fire destroyed the entire engine compartment and was written off by the insurance co. This fire was investigated by both the insurance co. and Honda engineers but so far I can't find out why it happened."
Another 2011 Odyssey owner commented a simple battery replacement turned into a call to the fire department.
"My van died Monday night, scheduled an appointment with local Honda dealership to replace battery. Went to have battery replaced Tuesday, and at the end of appointment, I was informed my alternator was bad and needed to be replaced for $800...I decided I needed a second opinion. Wednesday morning I left my house at 930, by 954 my car was on fire and 100% loss"
A battery issue was also the first sign of trouble for the owner of a 2009 Odyssey minivan.
"Charging system light came on the dash (Battery light) and noticed the battery was not charging. Get in the van, drive on the highway (2nd time since light went off), make it 3 miles and cruise control shuts off, all lights on dash flash on and then off. Pulled over, smoke coming from under the hood. Smoke gets worse, starts to turn dark colored. Everyone is out of the van at this point and at a safe distance. Van goes up in flames. Nothing left."
According to the lawsuit, Honda breached warranties and was negligent because the automaker failed to manufacture a minivan that wasn't defective. The lawsuit also alleges Honda had a duty to recall the Odyssey or it's components to ensure the vehicle was safe.
The 2015 Honda Odyssey lawsuit was filed in the Middlesex County New Jersey Superior Court.