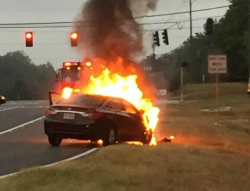 — Hyundai and Kia Theta II engine fires are getting the attention of federal investigators, especially fires that occurred without collisions of any kind.
The National Highway Traffic Safety Administration (NHTSA) says it will expand a current investigation to include more than 400 complaints of engine fires that occurred with and without collisions.
In May 2017, NHTSA opened an investigation into recalls of 1.7 million Hyundai and Kia vehicles equipped with Theta II engines at risk of locking up. NHTSA said it was concerned if Hyundai and Kia jumped on the engine problems fast enough after knowing the problems existed.
In September 2015, Hyundai recalled about 470,000 model year 2011-2012 Sonatas equipped with 2-liter and 2.4-liter Theta II engines.
Hyundai told NHTSA that manufacturing problems left metallic debris around the engine crankshaft that then entered the engine oil. This interfered with the oil flow through the connecting rod bearings and caused damage to the connecting rods.
The automaker blamed the problem on a mechanical "deburring" process used to remove metallic machining debris from the crankshaft.
Hyundai expanded the 2015 recall in 2017 by including another 572,000 vehicles with Theta II engines, including 2013-2014 Hyundai Sonata and Santa Fe Sport vehicles, all due to the same problems with metal debris.
Kia also told NHTSA about a recall of more than 618,000 model year 2011-2014 Kia Optima, 2012-2014 Sorento and 2011-2013 Sportage vehicles because the Theta engine bearings wore out too early and caused the engines to seize.
The automaker said the recall wasn't ordered when Hyundai first recalled its cars because the Theta II engines in the Kia vehicles were built on a different production line and had different problems than Hyundai.
With the federal investigation ongoing, the Center for Auto Safety (CAS) petitioned NHTSA to investigate reports of fires in the Hyundai and Kia vehicles involved in the past recalls. CAS says it is particularly concerned with engine fires that occurred when no crashes were involved.
CAS says records show how many non-collision fires have been reported in model year 2011-2014 vehicles equipped with Theta II engines.
2011-2014 Hyundai Sonata: 47
2011-2014 Kia Optima: 33
2011-2014 Kia Sorento: 30
2011-2014 Hyundai Santa Fe: 10
Safety investigators admit non-collision fires can occur in any newer vehicle because electrical current is constantly moving through various systems, but the Center says the high numbers of fires in Hyundai and Kia vehicles are not normal. The Center also noticed three of those models were manufactured at the same Georgia assembly plant.
In addition to reports of non-collision fires, about 200 complaints have been filed by Hyundai and Kia owners who allege burning odors, melted wires and smoke coming from the engine compartments.
The petition claims more than two million 2011-2014 Kia Sorento, Kia Optima, Hyundai Santa Fe and Hyundai Sonata vehicles are at risk of non-collision fires.