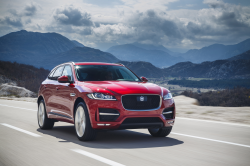 — Jaguar is recalling 3,000 model year 2017-2018 F-PACE SUVs as part of an expansion of a previous recall.
The automaker says the instrument clusters may go blank while driving, leaving drivers unable to see vehicle speed, warning lights and other important details.
Jaguar opened an internal investigation in October 2017 after receiving reports about instrument clusters going blank and then coming back on after a period of time.
The automaker and supplier found the voltage to certain circuits within the assembly could become unstable at higher operating temperatures, causing the software monitoring the voltage supply to record a fault and reset the instrument clusters.
Jaguar says other than the clusters going blank a minimum of seven seconds, the SUVs function normally.
The automaker recalled the vehicles in November 2017, but Jaguar received another F-PACE report in December concerning an instrument cluster going out. Jaguar determined the SUV was built within the date range of the recall but the VIN number was not included in the affected VIN range.
Jaguar says there have been no reports of crashes or injuries related to the instrument cluster problems.
The F-PACE recall should begin February 2018 when dealers will start updating software in the SUVs.
Owners may contact Jaguar at 800-452-4827 and use recall number H056.