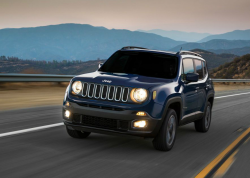 — A Jeep Renegade recall has been issued for more than 21,000 flex-fuel E85 SUVs equipped with 2.4-liter engines.
The 2017-2018 Jeep Renegade 4X2 flex-fuel vehicles have fuel pumps that may lose pressure and cause the Jeeps to suddenly stall while driving.
The Jeep Renegade fuel pumps may experience cavitation (vapor lock) that cause a loss of fuel pressure while using standard 10 percent ethanol (E10) fuel.
The loss of pressure can occur when high power is needed as the Jeeps travel in high altitude areas or in high ambient temperatures.
In March 2018, FCA U.S. gave warranty data and repair order claims to FCA Italy for fuel pump replacements on the flex-fuel E85 2.4-liter ED6 4-cylinder engines.
Complaints from a fleet customer indicated the fuel pumps were failing and engineers found the pumps may have had issues with the edges of the impellers that could affect fuel pressure. Tests were conducted to learn if the problems were related to customers who complained their vehicles were hesitating and losing power.
In October, engineers succeeded in replicating the pump failures as dozens of reports were received from the field, along with about 145 warranty claims.
Engineers determined the fuel pumps can suffer from vapor lock and a loss of fuel pressure caused by inlet pump covers made out of specifications. The Jeeps will suffer a sudden loss of power, possibly with no warning at all. The only warnings that may be provided are illuminated warning lights, engines running rough or the Renegades hesitating.
Any stalled vehicle is a serious safety hazard, but the automaker is unaware of any crashes or injuries related to the pumps.
The Jeep Renegade recall is expected to begin December 6, 2018, when dealers will replace the fuel pumps.
Renegade flex-fuel customers with questions or concerns should call Chrysler at 800-853-1403 and ask about recall number UB2.
CarComplaints.com has owner-reported complaints about Jeep Renegades and other Jeep models.