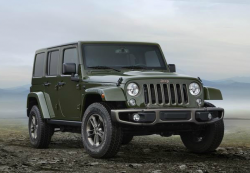 — Jeep Wrangler heating, ventilation and air conditioning (HVAC) problems have caused another lawsuit that alleges 2012-2017 models in Illinois repeatedly experience sludge in the radiators.
Plaintiffs Chris Hanusek, Jesse Swafford and Brian Kochman claim sludge builds up in the radiators and prevents the Fiat Chrysler (FCA US) HVAC systems from working properly.
According to the lawsuit, the plaintiffs each suffer from the problems and all describe incidents of losing heat. In some cases the heat didn't work properly on the driver's side, and other drivers say the heat went out for the passengers.
Owners and lessees claim the HVAC systems develop sludge that blocks the systems and make driving a cold and dangerous job, even more so with the defrosters throwing cold air. The plaintiffs claim they wouldn't have bought the Wranglers if Chrysler would have warned them about the HVAC problems.
The plaintiffs claim the automaker has known about the HVAC issues due to past complaints, input from dealerships and from internal testing, but the automaker continues to conceal defects that cause sludge to block the HVAC systems.
"...as soon as the cold weather sets in I realized the driver side blows in significantly colder air than passenger side , i contact the dealership and they let me know is no free solution to fix my car due to the fact my car was out of warranty ... I Get in touch with the corporate office trying to present this as a major manufacture problem due to thousands of internet threads on this particular issue and the answer was this is the first time they ever heard about this problem...LOL"- 2012 Jeep Wrangler owner / Chicago, Illinois
In addition, the lawsuit alleges dealers typically don't want to make repairs under warranty, not without a fight. Even buying an extended warranty allegedly hasn't helped convince Chrysler to pay for the repairs.
FCA has been sued before because of alleged HVAC problems, including a complaint the automaker settled with three plaintiffs concerning 2012-2017 Jeep Wranglers.
Another 2012-2017 Jeep Wrangler class-action lawsuit alleges sand left over from the casting process leaves occupants freezing. Then another Wrangler lawsuit was filed in 2017 alleging sludge blocks the radiators, engines and oil coolers.
The plaintiffs are represented by Greg Coleman Law, Landskroner Grieco Merriman LLC, Simmons Hanly Conroy LLC, and Whitfield Bryson & Mason LLP.
The Jeep Wrangler HVAC lawsuit was filed in the U.S. District Court for the Southern District of Illinois - Hanusek, et al. v. FCA US LLC.
CarComplaints.com has complaints about Jeeps Wranglers: