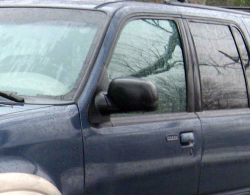 — A Texas jury has awarded Ford Explorer driver Jose Leos-Ortiz $4.8 million even though he tested twice the legal limit of intoxication after the crash.
Leos-Ortiz was driving on a Texas highway in June 2009 when his 1999 Ford Explorer rolled over and caused his left arm to be severed. Leos-Ortiz sued Ford by claiming he lost his arm because the window glass was tempered and not laminated.
Laminated glass has plastic layers to keep broken pieces intact, and the jury was told Ford used the cheaper tempered glass that caused the plaintiff to lose his arm.
Although he was driving at twice the legal limit of intoxication, his attorney told the jury it shouldn't matter because it was Ford's use of the cheaper glass that caused it to shatter into pieces.
Leos-Ortiz says as a welder he has been unable to work since 2009, so he sued Ford in 2011 for a trial that was reset 11 times due to a backlog of cases.
The 12 jurors listened to six days of testimony about the Ford Explorer crash and deliberated four hours before reaching their verdict.
The jury ruled there was a design defect in the 1999 Ford Explorer when it was originally sold by Ford, a defect that caused the plaintiff to lose his arm. And when asked to determine how much Ford was responsible for his injuries, the jury ruled Ford held 90 percent liability.
The jury held Leos-Ortiz 10 percent liable for the crash because the Explorer had more than 306,000 miles and he hadn't kept up maintenance on the SUV even though it still had its original suspension system.
The plaintiff was awarded $3.3 million for past damages and $1.5 million for future damages.
In its defense, Ford told the judge that Leos-Ortiz was responsible for the crash which cost him his arm because of the "negligence of plaintiff, in that he failed to exercise ordinary care, caution and prudence to avoid the incident and injuries at issue."
The 1999 Ford Explorer defective window lawsuit was filed in the U.S. District Court for the Southern District of Texas, McAllen Division - Jose Leos-Ortiz vs. Ford Motor Company.
The plaintiff is represented by the Arentz Law Group PC.