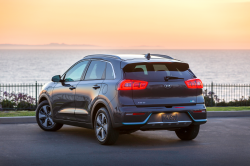 — A Kia Niro hybrid recall has been issued to fix problems that could cause the rear seat to overheat and catch fire.
More than 27,000 model year 2017-2018 Kia Niro hybrids are affected after Kia learned of the problem when a fire was reported in a 2017 Niro sold in Korea. Engineers tested the power relay assembly to determine what caused the fire, but Kia was unable to duplicate the incident.
The automaker worked with the supplier, LS IS CO., Ltd, to test the main relay, but the problem still wasn't duplicated. The automaker has received three warranty claims that describe damage from heat, but no reports of crashes or injuries.
The power relay assembly tested by Kia is located underneath the rear seat, but a bad connection between the main relay contacts can cause increased electrical resistance that generates heat.
Kia says a driver may see a warning light about the hybrid system or possibly experience problems starting the Niro.
The Kia Niro hybrid recall should begin November 23, 2018. Kia dealers will inspect the power relay assemblies for damage and replace the main relays if no damage is discovered.
However, the power relay assemblies will be replaced if technicians notice damage to the components.
Owners may contact Kia at 800-333-4542 and refer to Kia recall number SC168.