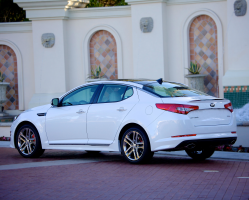 — A Kia Optima lawsuit alleges a Georgia man was left partially paralyzed because of a defective front passenger seat.
According to the lawsuit, Michael Insalaca was sitting in the front passenger seat of a 2013 Kia Optima when it was hit head-on by a Buick Enclave. The Optima was driven by his father with Michael's mother sitting behind him in the back seat.
The lawsuit alleges the mother's knee went into the back of the seat Insalaca was sitting in, breaking his spine and ribs.
Mr. Insalaca was flown from the crash scene to the hospital after telling emergency responders that he couldn't feel anything from his waist down.
The plaintiff alleges he wouldn't be paralyzed if Kia would have equipped the 2013 Optima with a seat strong enough to handle an impact.
According to the lawsuit, the automaker knew the seat was defective and could allow injuries such as suffered by Insalaca. The plaintiff says Kia could have used a seat that could handle the weight of luggage or passengers being thrown against it in a crash.
Insalaca says Kia also failed to warn him the weak seat could leave him partially paralyzed from an impact from an object in the back seat.
The 2013 Kia Optima seat lawsuit was filed in the Gwinnett County State Court of Georgia.
The plaintiff is represented by Beasley Allen.