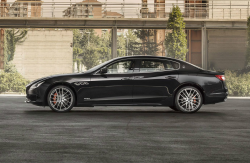 — Maserati is recalling more than 9,000 model year 2017 Quattroporte cars equipped with V6 engines and 2017 Maserati Ghibli vehicles.
The cars have a dangerous condition that can cause the transmissions to suddenly shift from DRIVE into PARK while driving at slow speeds. The defect can also cause the car to shift into NEUTRAL unexpectedly, but either event can increase the risk of a crash.
The cars may have engine software defects that show up when the cars are operated at speeds of about 2 miles per hour such as in stop-and-go driving.
In addition to the transmissions shifting when they shouldn't, Maserati says it's possible the engines could simply shut down at any time and without warning.
The automaker says seven field reports have been received but no warranty claims, crashes or injuries.
Maserati says the recall should begin May 3, 2018. Dealers will re-flash the engine control module software to fix the problems.
Maserati Quattroporte and Ghibli owners may contact the automaker at 877-696-2737. Maserati's number for this recall is 365.
CarComplaints.com has a few complaints about Maserati cars.