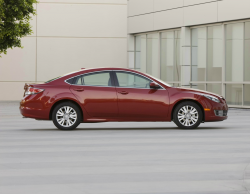 — Mazda Mazda6 subframe rust is no longer the focus of a federal investigation after the automaker agreed to recall 2009-2010 model year cars.
The National Highway Traffic Safety Administration (NHTSA) opened the Mazda6 subframe rust investigation in May 2018 after owners complained about losing the ability to steer the cars. In addition to large amounts of rust, Mazda6 drivers said the mounting bolts failed to hold the steering racks and corrosion caused the cross members to separate.
Mazda said an insufficient coating allowed road salt to corrode the subframes and weaken the structural integrity of the passenger-side steering components. Owners reported rusted lower control arms that broke and drastically altered the steering alignment as the cars were moving, with some owners reporting they had no control over the cars.
The investigation included 84,500 model year 2009-2010 Mazda6 cars, but federal safety regulators closed the investigation based on a September 2017 recall the automaker issued for 49,000 cars in these states where road salt is used during winter.
Connecticut, Delaware, the District of Columbia, Illinois, Indiana, Iowa, Kentucky, Maine, Maryland, Massachusetts, Michigan, Minnesota, Missouri, New Hampshire, New Jersey, New York, Ohio, Pennsylvania, Rhode Island, Vermont, Virginia, West Virginia and Wisconsin.
NHTSA looked at complaint data and found 53 reports about rusted Mazda6 cross members that caused complete and partial separations of the steering and suspension components. Another 98 complaints mentioned subframe rust and corrosion but without any separation of components.
Importantly, 150 of the complaints were filed from the same regions affected by the Mazda6 recall, and only one complaint was made from outside those regions.
NHTSA investigators say Mazda's recall remedy should be good enough to take care of any potential safety issues. As part of the Mazda6 subframe rust recall, the automaker is adding anti-corrosive wax and air conditioning drain tubes.
In addition, Mazda dealers will replace the entire subframes on Mazda6 cars with severe corrosion problems.
CarComplaints.com has owner-reported complaints about 2009 Mazda6 cars and 2010 Mazda6 vehicles.