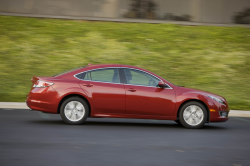 — Mazda is recalling nearly 49,000 Mazda6 cars in the U.S. because the cross members may break while driving.
The 2009-2010 Mazda6 cars are recalled in states where road salt can rust and corrode the cross members.
Those states include:
Connecticut, Delaware, the District of Columbia, Illinois, Indiana, Iowa, Kentucky, Maine, Maryland, Massachusetts, Michigan, Minnesota, Missouri, New Hampshire, New Jersey, New York, Ohio, Pennsylvania, Rhode Island, Vermont, Virginia, West Virginia and Wisconsin.
In May 2018, the National Highway Traffic Safety Administration (NHTSA) opened an investigation into 2009-2010 Mazda6 cars after owners complained about corroded subframes. Drivers reported they had trouble controlling the cars, with some owners claiming the lower control arm mounts separated from the subframes.
In addition, some Mazda6 owners told NHTSA there was severe corrosion of the right rear subframes that caused the steering rack mounting bolts to fail.
The automaker suspects there wasn't enough paint coating applied to the front cross members to protect them from rust on the mounting points at the passenger-side lower control arms.
Drivers may notice the cars out of alignment and have serious trouble controlling the cars if the cross members break. Mazda says the weakened parts can snap from something as simple as hitting a pothole.
There are 22,544 model year 2009 Mazda6 cars affected by the cross member recall and about 26,279 model year 2010 cars that need repaired.
So far no crashes or injuries have been reported, but Mazda hasn't released information about what dealers will do to fix the problems and when they will do it.
If you have concerns or questions, have your VIN ready and call Mazda at 800-222-5500.
CarComplaints.com will update this page when more details are known.
Read complaints about 2009 Mazda6 cars and 2010 Mazda6 vehicles.