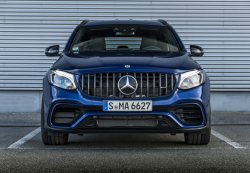 — Mercedes-Benz is recalling more than 8,500 vehicles in three recalls just one day after the automaker recalled vehicles for door lock problems.
Adding to the door lock problems, the latest three recalls includes headlight, airbag and braking defects.
Mercedes-Benz GLC300, GLC300 4MATIC and GLC43 4MATIC
More than 8,100 model year 2016-2017 GLC300, GLC300 4MATIC and GLC43 4MATIC vehicles have low-beam headlight problems due to incorrect adjustments at the assembly plant.
Mercedes discovered the problem in November 2016 at an assembly plant when workers found that the lights weren't angled correctly.
Engineers finally determined a device in the assembly plant wasn't set correctly and caused the low-beam headlights issues with illuminating what is in front of the vehicle.
The headlight adjustment process in the assembly plant was changed so any vehicles made after November 16, 2017, do not contain the headlight problems.
Mercedes-Benz determined the LED headlights on GLC-Class vehicles had been adjusted as if the cars were C-Class models. Owners will have no idea the headlights are adjusted incorrectly and the automaker says there won't be a glare to oncoming drivers.
Owners should be notified of the recall in January 2018 when dealers will adjust any low-beam headlights that don't meet safety standards.
GLC300 and GLC43 owners with questions about the recall should call 877-496-3691.
Mercedes-Benz G550 & G550 4x4 Squared
Mercedes is recalling 432 model year 2017 Mercedes G550 & G550 4x4 Squared SUVs because the vacuum hoses for the brake boosters can collapse, causing problems when braking.
Replacement parts are not currently available. Mercedes will notify owners in January and the replacement of the vacuum hoses will likely occur in March 2018.
Mercedes G550 & G550 4x4 Squared owners may contact the automaker at 877-496-3691.
Mercedes-Benz AMG GT, GT-C, AMG GT-S and GT Roadsters
Mercedes says 10 cars have passenger frontal airbags that can deactivate or activate incorrectly in a crash. The 2017 AMG GT & AMG GT-C Roadsters and 2018 AMG GT-S & GT Roadsters need their software updated by dealers, but the automaker doesn't know when that will occur.
Owners will receive first letters in January about the recall, then second letters will be sent once Mercedes dealers are ready to make the repairs, probably sometime in February 2018.
With questions or concerns, please call the automaker at 877-496-3691.