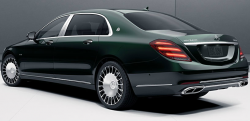 — Mercedes-Benz is recalling about 2,100 vehicles in two recalls of new 2018 models.
The majority (1,701) of the recalled vehicles may have electrical problems that could start fires.
2018 Mercedes-Maybach S560
2018 Mercedes S560 4Matic
2018 Mercedes S450 4Matic
2018 Mercedes S450
2018 Mercedes S560
2018 Mercedes S560 4Matic
2018 Mercedes S560 Coupe 4Matic
Mercedes found problems with two missing nuts normally used to secure the electrical power bars inside the pre-fuse box in the trunk.
Engineers determined the S-Class vehicles experienced the problem during installation of the pre-fuse boxes and electrical power bars, leading to higher electrical resistance between the power bars.
This alone can cause fires, but Mercedes-Benz also found intermittent contact between the power bars can cause issues with the seat belts and instrument clusters.
Mercedes dealers will replace the pre-fuse boxes as needed when the recall begins August 15, 2018.
In a second recall, the automaker is recalling 399 model year 2018 Mercedes-Benz GLA250 and GLA250 4Matic vehicles due to problems when using child seats.
Mercedes says the child seat top tether anchorage points may not have been installed on the rear seats. This will prevent the correct use of a child seat in the center rear seat position.
The recall will begin August 3, 2018, when dealers will replace the rear seat backrests.
Affected owners of the vehicles named in the two recalls may call Mercedes-Benz at 800-367-6372.