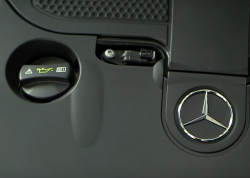 — A Mercedes "genuine parts" lawsuit has been preliminarily settled after the plaintiffs alleged a yearslong scheme to sell Mercedes auto parts and an oil additive called zMAX.
Mercedes-Benz had been accused of violating the Racketeer Influenced and Corrupt Organizations (RICO) Act by working with a group of dealerships in the alleged fraud.
However, the RICO Act lawsuit was dismissed in 2016 and replaced primarily by claims against against Autobahn Motors, a Mercedes-Benz dealership owned and operated by Sonic Automotive, a company that operates more than 100 car dealerships in 14 states.
The class-action lawsuit includes all consumers who received service from Autobahn between January 1, 2005, and February 28, 2018. Also included are consumers who purchased a certified used vehicle from Autobahn between January 1, 2007, and December 31, 2012.
According to the lawsuit, Mercedes customers were deceived into purchasing what they believed were genuine Mercedes auto parts when in fact the parts were cheaper non-Mercedes components.
The plaintiffs claim regular maintenance items such as air filters, oil filters, oil, spark plugs and numerous other parts were sold at huge profits for Autobahn as car owners believed they were receiving quality Mercedes items. In addition, Autobahn sold certified pre-owned vehicles that were advertised as reconditioned by genuine Mercedes parts when they weren't.
The plaintiffs also allege Autobahn sold and added a product called zMAX to the vehicles even though it could potentially void the warranties. Sonic and Autobahn also allegedly forced customers to buy the zMAX oil additive as part of a standard oil change even though customers reported the product caused engine damage.
According to the lawsuit, Autobahn and Sonic made a fortune from selling zMAX, a product manufactured by a company "founded by O. Burton Smith, who is also the former President and current Chairman of Sonic Automotive."
The alleged parts scheme also brought in a huge profit for Autobahn because many non-genuine Mercedes parts are made by the same companies that supply these products to Mercedes as genuine parts. The plaintiffs argue this shows non-genuine Mercedes parts are identical to genuine parts but at only one-third the cost.
Consumers may qualify for benefits, but those benefits consist of vouchers only, vouchers that must be used at Autobahn. This means vehicle owners must do business with the very company who they sued.
According to the proposed settlement, a customer may receive a $12.50 or $50 Autobahn Motors voucher if the customer purchased a certified used car from the dealership.
For a customer who had the vehicle worked on by Autobahn, the consumer may qualify for a voucher based on how many times the vehicle was serviced by the company.
A customer may also be eligible to receive a $40 voucher if Autobahn added zMAX to the vehicle.
The genuine Mercedes-Benz parts lawsuit was filed in the U.S. District Court for the Northern District of California - Ferrari, et al., v. Autobahn, Inc, et al.
The plaintiffs are represented by Franck & Associates, and Varnell & Warwick.