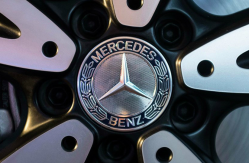 — Mercedes-Benz is under federal investigation concerning how the automaker recalls vehicles, in this case more than 1.4 million of them.
The National Highway Traffic Safety Administration (NHTSA) alleges Mercedes failed to meet federal recall standards and left safety regulators with too many unanswered questions.
NHTSA sent Mercedes a list of problems about recalls issued in 2017 alleging the automaker failed to notify car owners about safety recalls within the regulated 60-day time period. In May 2018, the government asked Mercedes to explain why it wasn't meeting standards and what it would do to fix the deficiencies.
The automaker allegedly responded with short statements concerning each violation, including many responses that said, "Redacted version of the interim letter was not posted. Redacted version now updated to portal.''
NHTSA alleges Mercedes left out critical information about the safety problems that originally caused the recalls and sometimes omitted important information about the automaker's recall plans.
Then Mercedes allegedly provided important details only after the recalls were set in motion, such as the estimated percentage of its products impacted by a recall and information about the expected timing for its recalls campaigns.
According to NHTSA, a continuing pattern of recall failures occurred as Mercedes-Benz allegedly failed to mail owner notifications in a timely manner and failed in its quarterly reporting duties.
In addition, the automaker allegedly caused multiple disruptions to the federal "VIN Lookup Tool" that possibly prevented car owners from viewing critical safety recall information about their cars.
NHTSA also claims it sees problems with recall completion reports that Mercedes is mandated to submit to the government. In addition, the automaker must also answer questions about alleged failures concerning planned dealer notification dates for recalls and the estimated percentage of recalled vehicles affected by safety defects.
Safety regulators claim Mercedes fails to provide missing information even when the automaker is notified of important details missing from recall reports. Regulators say they are blocked from investigating safety risks when Mercedes ignores its legal responsibilities.
CarComplaints.com will update our website with results of the Mercedes-Benz investigation.