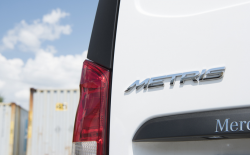 — Nearly 12,400 Mercedes-Benz Metris vans are at risk of fires because the engine compartment fuel hoses may leak.
According to Mercedes, the 2016-2017 vans may leak fuel at the lower connecting points of the transition hoses between the underbody fuel lines and the Schrader valves.
An additional problem can occur in the upper connections of the fuel lines to the fuel pumps that can cause fuel odors during cold starts. But Mercedes says that location typically won't cause much fuel to leak.
Daimler, maker of the Mercedes Metris vans, was contacted by the National Highway Traffic Safety Administration in March 2018 about fuel hose leaks in 2016 Metris vans.
The automaker opened internal investigations and tested returned parts removed from the vans. Investigators focused on the upper connections of the fuel lines to the fuel pumps after engineers used photos and videos of the components in customer vehicles.
The automaker says it's possible the wrong tool was used to secure the clamps to the hoses in a U.S. reassembly plant.
According to Mercedes, Metris van owners should be aware of any fuel smells, especially during cold starts in cold climates.
Owners will be contacted starting January 25, 2019. Mercedes-Benz dealers will replace the affected hoses and clamps, but Metris owners with questions should call 877-762-8267.