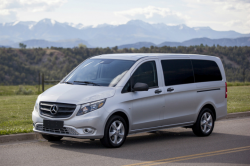 — Federal safety regulators have opened a formal investigation into gas leaks and odors in 2016 Mercedes-Benz Metris vans.
The National Highway Traffic Safety Administration (NHTSA) has received nine complaints about gas leaks and odors, with eight of those complaints indicating the problem occurs in cold temperatures.
Van owners say the problems are most prominent when warming up the engines after cold starts or after the vans are shut off and parked.
One of those owners said there was a problem with getting replacement parts because the fuel lines are manufactured in Germany.
"Mercedes metris van fuel smell while vehicle was at idle warming up for winter driving. Gas was seeping from "Porous gas line" was what I was told from dealership and that this only happened to two other vehicles in america. Unfortunately, our company bought multiple vehicles and we have three with the exact same problem. Mercedes does not have parts readily available in the states and the fuel line has to be manufactured in Germany."
Two Metris van owners claim dealers diagnosed the vans as having leaking low-pressure supply hoses that feed the engine-mounted high-pressure fuel pumps.
NHTSA has opened the investigation to determine why customers are complaining and if a defect exists that should be fixed by recalling the vans.
CarComplaints.com will update our website with results of the 2016 Mercedes-Benz Metris investigation.