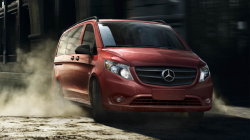 — Mercedes-Benz is recalling more than 7,400 Metris vans with driveshafts that can become damaged and cause a loss of power to the wheels.
The 2015-2017 Mercedes-Benz vans have transmission supports that may not have been properly tightened to the vans, allowing damage to the driveshafts.
If the screws for the transmission carriers are not sufficiently torqued, the bolts could loosen and detach and cause the positions of the transmission carriers and propeller shafts to change. Once beyond a certain angle the joint disks will be damaged and cause complete failures.
The entire problem was caused by one employee who didn't apply the specified torque to the screws at the South Carolina assembly plant.
A driver may receive a warning in the form of rattling noises under the vehicle as well as vibrations from the propeller shaft. Ignoring the warnings will eventually result in the van losing power, although steering and braking won't be affected.
Mercedes doesn't know when the recall will begin. Dealers are expected to inspect the transmission support mounting bolts and replace them if needed.
Metris van owners with questions should call Mercedes-Benz at 877-762-8267.