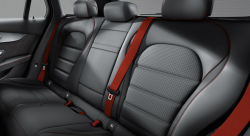 — Mercedes-Benz is recalling nearly 122,000 vehicles because occupants may not be able to fasten the second-row seat belts.
The recall affects the following:
2017-2018 Mercedes-Benz GLC43 AMG
2016-2018 Mercedes-Benz GLC300 4Matic
2016-2018 Mercedes-Benz GLC300
2018 Mercedes-Benz GLC63 AMG 4Matic
2018 Mercedes-Benz GLC350e 4Matic
Mercedes started an internal investigation in February 2018 after federal safety regulators contact the automaker concerning two reports about customers who complained about the seat belt problems. Engineers opened an investigation that showed the seat belt problem could occur while unfastening and fastening the seat belt.
Mercedes says the recall affects vehicles without "dynamic locking tongue" seat belt latches in the second-row seats. Without the locking mechanism, the outboard seat belt latch plate (the part that inserts into the buckle) can retract into the area between the c-pillar and rear side paneling.
This will leave an occupant without the ability to fasten the seat belt.
The recall is expected to begin May 14, 2018, when Mercedes dealers will begin installing buffers to the c-pillar paneling to prevent the seat belt latch plates from getting stuck in the paneling.
Owners of the recalled Mercedes vehicles may call the automaker at 800-367-6372.