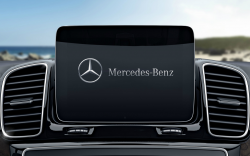 — Mercedes-Benz is recalling nearly 9,800 vehicles equipped with "Active Curve" systems that may leak oil onto hot surfaces and cause engine compartment fires.
2012-2014 Mercedes-Benz ML350 Bluetec 4Matic
2012-2014 Mercedes-Benz ML550 4Matic
2012-2015 Mercedes-Benz ML63 AMG 4Matic
2012-2015 Mercedes-Benz ML350 4Matic
2013-2016 Mercedes-Benz GL350 Bluetec 4Matic
2013-2016 Mercedes-Benz GL550 4Matic
2013-2016 Mercedes-Benz GL63 AMG 4Matic
2017 Mercedes-Benz GLS350d 4Matic
2017 Mercedes-Benz GLS450 4Matic
2017 Mercedes-Benz GLS550 4Matic
2017 Mercedes-Benz GLS63 AMG 4Matic
2015 Mercedes-Benz ML400 4Matic
2016 Mercedes-Benz GLE400 4Matic
2016 Mercedes-Benz GLE350 4Matic
2016 Mercedes-Benz GLE63 AMG 4Matic
2016 Mercedes-Benz GLE63S AMG 4Matic
2016 Mercedes-Benz GLE450 4Matic Coupe
2016 Mercedes-Benz GLE63S AMG 4Matic Coupe
2013-2016 Mercedes-Benz GL450 4Matic
Mercedes describes the Active Curve feature as using electrohydraulic stabilizers that "can tighten to help resist lean when cornering, or relax for smooth comfort on straightaways or in gentle curves."
Mercedes says the combination of oil levels below minimum and certain driving conditions can cause the Active Curve oil reservoir to start foaming oil that can leak through the vent holes of the cap. The oil can spray onto hot surfaces and cause an engine compartment fire, which is what led the automaker to discover the problems.
In July 2017, Mercedes received a fire report with a 2015 model that showed local "thermal" damage in the engine compartment, causing engineers to open an investigation.
First results of the analysis indicated leaking oil from the oil reservoir of the Active Curve system through the vent holes in the sealing cap of the oil reservoir. Engineers were able to cause oil in the oil pump to foam up under certain driving conditions, a problem blamed on the low oil level in the Active Curve system.
Mercedes-Benz isn't ready to perform the recall just yet, so owners should watch for initial recall notices in June 2018. The automaker will send second notices when dealers are ready to make the repairs. Dealers are expected to correct the oil levels and replace the reservoir sealing caps.
Concerned owners with questions should call Mercedes at 800-367-6372.