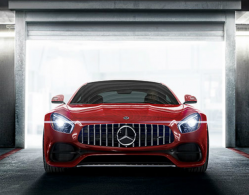 — Mercedes-Benz is recalling 1,263 model year 2018 Mercedes-Benz AMG GT, AMG GT R, AMG GT C and AMG GT S cars to fix problems with the seat belts.
Mercedes-Benz says the seat belt may bind within the seat belt guidance loop, causing slack in the belt that can get worse the more an occupant moves around. This will prevent the seat belt from fulling restraining the occupant and cause an increased risk of injury.
The automaker blames the problem on the technical design of the geometry between the seat belt loop and the spacer disc that leads to the seat belt getting stuck in the guidance loop. An occupant may notice the seat belt doesn't fit or function correctly.
Mercedes-Benz dealers will remove the spacer disc and add an additional sliding component to the belt guidance, but when that will happen is up in the air.
Owners will be notified of the recall in January 2018 and then receive second letters when parts become available, currently expected to be in February 2018.
If you own a 2018 Mercedes-Benz AMG GT and have concerns, call 877-496-3691.
In a second recall, only 64 model year 2016-2017 Mercedes GLE 550e 4MATIC vehicles are recalled.
The automaker says the tire pressure label on the B-pillar lists incorrect seating capacity and front and rear tire dimension information.
The wrong info can cause an owner to install the wrong size tires to the vehicle that will affect the speedometer reading.
The recall is likely already underway as dealers replace any incorrect tire pressure labels, but owners may contact Mercedes customer service at 877-496-3691.