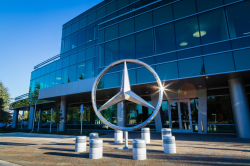 — Daimler is recalling about 774,000 Mercedes-Benz vehicles across Europe after German regulators found five "illegal switch-off devices" that alter the emission systems.
German newspaper Bild am Sonntag reported KBA, Germany's vehicle authority, discovered the five devices that cause excess pollution levels in vehicles equipped with Euro 6 diesel engines.
Mercedes and KBA have disagreed in the past about the legality of the devices, with Daimler arguing there is nothing illegal about the engines and the emissions controls do not qualify as "defeat devices."
Mercedes was already facing questions about its 1.6-liter Vito mid-size van when regulators discovered emissions control devices in the 774,000 vehicles. Although a complete list of recalled vehicles hasn't been released, regulators say the Mercedes Vito, C-Class and GLC-Class vehicles are included.
Daimler met with Germany's transport minister to hash out details of the recall that includes about 238,000 vehicles in Germany, with the remaining 536,000 spread throughout Europe.
The automaker told German regulators the engine control "applications" will be removed from the vehicles as soon as possible, although Daimler insists there is nothing illegal about the emissions systems.
Germany's Transport Ministry has the right to force recalls in Germany only, but Mercedes says all of Europe will be included to ensure there are no additional questions about the legality of the vehicles.
Regulators will need to verify the repairs will make the vehicles legal in the eyes of the government, but Daimler says it's already created the solution and sees no issues with regulators blocking the technical details.
The fallout follows the ongoing emissions scandal that came to light when Volkswagen was caught cheating on emissions tests in 2015. What started with an eventual admission of selling about 600,000 illegal vehicles in the U.S. grew to about 11 million worldwide.
Governments decided to test vehicles from other automakers and determined VW wasn't the only guilty party. Daimler/Mercedes-Benz were included in government actions in South Korea and Germany in 2017 and named in a failed U.S. lawsuit in 2016.