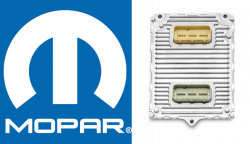 — Mopar Stage 1 PCM (powertrain control module) problems have caused Chrysler to recall 1,930 of the parts that can prevent drivers from disengaging the cruise control systems.
A vehicle with cruise control engaged would maintain its speed or possibly speed up even when a driver turned off the system or slammed on the brake pedal.
Affected by the recall are Mopar Stage 1 Performance Package powertrain control modules used in 2014-2016 Chrysler 300, Dodge Charger and Dodge Challenger cars equipped with 5.7-liter engines. Two part numbers are involved: P5160023, P5160025.
Also recalled are Demon Crate PCMs, part number 68412287AA, sold for 2018 Dodge Challenger SRT Demon cars.
Cruise control could get stuck in the event of a short-circuit that causes the CAN-C bus to stop communicating as the cruise control system is needing positive torque.
Chrysler says a driver will receive no warning before the cruise control malfunctions other than multiple illuminated warning lights. The automaker says a driver should shift into NEUTRAL if the car maintains speed or speeds up after disengaging cruise control.
Chrysler recalled about 5 million vehicles in May 2018 for the same problem, but in June the automaker learned about Mopar PCMs that were available for sale and contain the exact same software involved in the May recall.
In the recall of 5 million vehicles, Chrysler said electrical shorts in the vehicles can be caused by rodents chewing on wiring.
The National Highway Traffic Safety Administration says the Mopar PCM recall should begin August 31, 2018. Chrysler and Dodge dealers will update the software or replace the PCMs.
Owners of 2014-2016 Chrysler 300, Dodge Charger, Dodge Challenger and 2018 Dodge Challenger SRT Demon cars may call 800-853-1403.
Chrysler's numbers for this recall are U82 and U83.
CarComplaints.com has owner-reported complaints about the Chrysler 300, Dodge Charger and Dodge Challenger.