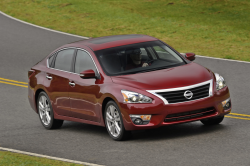 — A Nissan Altima continuously variable transmission (CVT) lawsuit alleges the transmissions cause the cars to shudder, jerk, make noise, hesitate and stall.
The proposed class-action lawsuit includes all consumers who purchased or leased a 2013-2014 Nissan Altima in Massachusetts.
The lawsuit alleges the CVTs create a safety risk to drivers and everyone else on the roads when Altimas suddenly stall while other drivers don't see any brake lights. Drivers allegedly have trouble accelerating the cars while other times drivers experience cars that surge without warning.
The plaintiff claims seeking repairs can cost up to $3,000 for CVT replacements, but dealers only replace the bad transmissions with equally defective CVTs. According to the lawsuit, Nissan knew the transmissions were prone to suffer problems but failed to disclose the information to consumers.
"As a result of Nissan's unfair, deceptive, and fraudulent conduct, Plaintiff and the other Class members received a car worth less than as represented and less than what they paid for..."
Plaintiff Krista Costa purchased a new 2014 Nissan Altima that has allegedly frequently experienced the CVT defect as a shaking of the car at seemingly random moments while driving. She claims the transmission finally failed completely in June 2018 and she paid $3,561.36 to have her CVT replaced.
The Altimas are equipped with CVTs designed and manufactured by Jatco, a majority-owned subsidiary of Nissan that specializes in the design and manufacture of transmissions. Unlike a conventional automatic transmission, a CVT uses two pulleys that continuously adjust the gear ratio of the transmission.
The lawsuit references Carcomplaints.com where the 2013 Nissan Altima has earned an "Avoid Like the Plague" badge due to the numerous transmission complaints. In addition, the 2014 Nissan Altima comes with the badge of "Beware of the Clunker," much of it due to transmission issues.
The National Highway Traffic Safety Administration is also referenced in the suit after the agency received 261 complaints regarding transmissions in 2013 Nissan Altimas and 96 complaints regarding the powertrains on 2014 Altimas.
The plaintiff alleges almost all of these complaints talk about CVT's jerking, stalling, shuddering, hesitating or failing prematurely.
In its press kit for the 2013 Altima, Nissan allegedly boasted the car included "a next-generation Xtronic CVT that takes Nissan's two decades of Continuously Variable Transmission leadership into a new dimension of smooth operation and fuel efficiency." Nissan also described the transmission as "designed for fluid-feeling performance."
The Nissan Altima CVT lawsuit was filed in the U.S. District Court for the District of Massachusetts - Krista Costa, et al., v. Nissan North America, Inc.
The plaintiff is represented by the Pastor Law Office, Barnow and Associates, and Blood Hurst & O'Reardon.
Read transmission complaints about 2013 Nissan Altimas and 2014 Nissan Altimas.