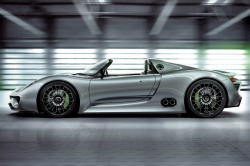 — Porsche has problems with its $850,000 sports car called the 918 Spyder, a car that derives its name from the number of vehicles Porsche manufactured.
About 350 model year 2015 Spyders have connecting shafts of the control arms that may fail because of stress corrosion cracks, causing drivers trouble handling the cars.
Porsche says it will take 7 or 8 hours for a dealer to replace the longitudinal and transverse control arms, but the automaker doesn't know when the recall will begin.
Owners of 2015 Spyders may contact Porsche at 800-767-7243 and refer to recall number AJ04.