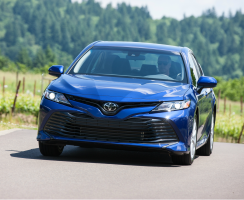 — Toyota is recalling 1,700 model year 2018 Camry cars to possibly replace the entire engines because of problems with the pistons.
The supplier of the pistons was performing a routine that required repositioning of the machining tool. Toyota says the tool was not returned to the correct position, resulting in pistons being produced with a diameter larger than specification.
The automaker says the cars may have pistons too large for the engines that can cause the engines to make noise and run lousy. In addition, the new cars could emit smoke from the exhaust while drivers watch illuminated warning lights and messages.
The problem can be so bad the 2.5L, 4 cylinder A25A-FKS engines can stop running while the cars are moving.
The automaker will start mailing recall notices in May 2018. Toyota dealers will inspect the production date codes of the pistons and replace the engines if needed.
If you own a 2018 Camry and have questions about your car, call the automaker at 888-270-9371 and ask about recall number J1M/J0M.
Read complaints about 2018 Toyota Camry cars other model years of Camrys.