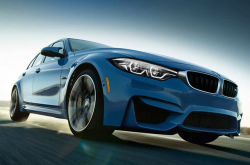 — BMW M3 and M4 cars are recalled to replace driveshafts that can make noise and fail to power the rear wheels.
More than 2,660 model year 2016-2017 BMW M3 sedans, 2016-2017 BMW M4 and M4 GTS coupes and 2017 BMW M4 convertibles are equipped with internal driveshaft flanges that weren't made to handle long-term use.
BMW learned of driveshaft problems in July 2018 after owners reported noise, vibrations and in some cases a loss of propulsion. The automaker collected the driveshafts from the M3 and M4 cars for inspection and by August engineers suggested possible problems with the driveshaft flanges.
Engineers finally determined the flanges could separate from the driveshafts because the flanges couldn't handle the stress.
The faulty driveshaft flanges were used in cars built between March 2016 and September 30, 2016.
Although a car can suddenly lose propulsion while driving, BMW says it is unaware of any crashes or injuries caused by the defective flanges.
The BMW M3 and M4 recall is expected to begin December 3, 2018. Dealers will replace the driveshafts, a job that could take several hours to accomplish.
BMW M3 and M4 owners with concerns should call BMW at 800-525-7417.