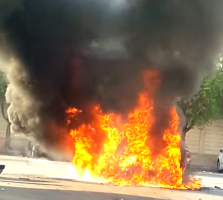 — Mercedes-Benz smart car fires that occurred without collisions are no longer under a federal microscope as the National Highway Traffic Safety Administration (NHTSA) announced it has closed its investigation into engine fires in the minicars.
Nearly 43,000 model year 2008-2009 smart fortwo cabrio and coupe minicars went under investigation in 2016 after owners reported their cars burning to the frames without collisions.
The government upgraded the investigation in September 2017 after finding non-crash fire reports increased after the cars were four years old, then increased even more after seven years.
Owners reported seeing smoke, hearing noises and seeing illuminated warning lights before discovering the cars were on fire. Most reports said the cars were burned to the metal by the time fire departments showed up.
According to NHTSA, at least 33 smart fortwo fires were reported by drivers, some who had no idea the cars were on fire until pulling off the road.
The smart fortwo car has an external catalytic converter located close to the insulation mat where temperatures are high. Over time, the high temps cause deformation and loosening of the insulation mat, allowing the mat to make contact with extremely hot exhaust components.
From there a fire may be inevitable.
Safety regulators say they are closing the investigation based on a recall ordered by Mercedes-Benz. The recall of 43,000 model year 2008-2009 smart fortwo cabrio and coupe minicars has dealers replacing the rear insulation mats with improved versions.
NHTSA believes replacing the mats should fix the problems because the automaker started equipping the fortwo cars with the improved mats in 2010 models and non-collision fires haven't been common since then.