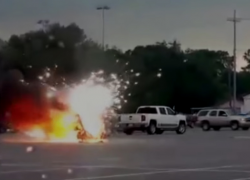 — smart fortwo fires have caused Mercedes-Benz to recall nearly 43,000 of the 2008-2009 cabrio and coupe minicars.
The recall follows an investigation originally opened in 2016 by the National Highway Traffic Safety Administration (NHTSA) into at least 27 smart fortwo fires.
Owners who have experienced the disasters say the cars burned to the frames in no time and with little or no warning. Some owners said they noticed warning lights, smoke or unusual noises before realizing the engines were on fire. Other owners claim they knew nothing of the fires until the cars were parked.
According to Mercedes, the exhaust systems have external catalytic converters located close to the rear insulation mats in the engine compartments where there are high temperatures. The insulation mats can deform because of the heat and allow the mats to make contact with the exhaust systems.
The automaker said it looked at different possible causes of the engine fires, including with the resonator boxes, various seals, fluids and other components. But engineers noticed sagging portions of the rear insulation mat on a sample vehicle and determined high temperatures affected the shape of the mat.
The recalled 2008-2009 smart fortwo cabrio and fortwo coupe minicars will need to have their rear insulation mats replaced once the recall begins in July 2018.
Owners with concerns or questions should call Mercedes-Benz at 800-367-6372.
CarComplaints.com has complaints about smart fortwo minicars.