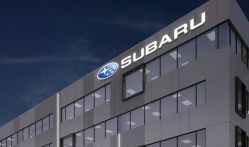 — In May 2018, Subaru said it wanted to be a "reborn" company that followed regulations and sold products consumers could depend on after Japanese regulators determined the automaker had cheated on final inspections for years.
But it looks like the company's rebirth will arrive a little later than it wanted after Subaru admitted it falsified data and inspections for much longer than originally believed.
The automaker had already admitted it may have falsified emissions and mileage data from 2002 to 2017, but without question knew the data was wrong between 2012 and November 2017. According to Japanese regulators, Subaru was caught feeding the public falsified data created by employees who knew their actions were illegal.
External investigators determined Subaru had departed from Japanese laws for years by using uncertified employees to conduct final inspections before the cars were certified for sale in Japan.
A chain of employees, from senior managers to lower-level employees, knew fuel economy numbers were false and as employees moved up the chain of command, they in turn taught new employees to falsify data.
Subaru announced in May 2018 that countermeasures were created and employed to ensure the cheating of the past was over, or so the automaker preached. In fact, new evidence shows the automaker continued with the fraud until October 2018, a revelation that caused another recall that will cost the company more than $57 million.
The automaker says a total of 540,000 vehicles have been recalled in Japan due to falsifying documents and data, recalls that have also affected Toyota and its 86 car that Subaru builds. In addition, Toyota owns about 16 percent of Subaru and has watched Japanese consumers question Subaru's commitment to quality and honesty.
According to the Subaru, inspectors are now being monitored by more experienced inspectors, and production line employees cannot place any vehicle into the final inspection process if it is missing any single part.
The automaker says it is also stopping production lines if final inspection lines get congested with vehicles. The move is in response to finding employees and supervisors felt pressured to get vehicles certified and out the doors.
To date, no Subaru models in the U.S. have been affected by the automaker's illegal actions in Japan.