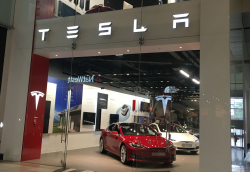 — Chalk up another win for electric automaker Tesla as the state of Rhode Island granted the company a license to begin selling cars in the state.
The approval for a dealer license follows another win in late-2017 when Tesla won the right to sell its vehicles direct to consumers in Missouri.
Tesla does business without need of dealerships by selling direct to consumers from showrooms where consumers can learn about the technology and place custom orders for vehicles. There is no unused inventory such as seen on dealer lots and no dealer price mark-up.
Similar to other states, Rhode Island regulations are based on franchised dealerships that sell vehicles to consumers after those dealers purchase the vehicles from auto manufacturers. It's a problem that Tesla has faced many times as state dealer associations fight to block Tesla from selling cars without franchised dealerships.
Connecticut, Utah and other states have blocked Tesla's ability to sell cars direct to consumers in those states, and a similar battle in Michigan caused the automaker to file suit against the state.
The Rhode Island Division of Motor Vehicles granted Tesla a dealer license after determining current state law only applies to manufacturers that try to sell direct to consumers when the same vehicles are already for sale through franchised dealerships. Because Tesla has no dealerships, Rhode Island decided the law doesn't come into play.
In addition to receiving the license from the DMV, Tesla also received a license to sell vehicles from the city of Warwick, where Tesla will open its first store in a building that formally housed a Hyundai dealer.