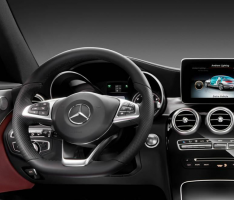 — Mercedes-Benz says more than 6,100 vehicles are recalled because the steering can lock in one position while driving.
Use your imagination.
As the National Highway Traffic Safety Administration so aptly puts it: "A car that cannot be properly steered has an increased risk of a crash."
2015-2016 Mercedes-Benz C300
2017-2019 Mercedes-Benz C300 Cabrio
2017-2019 Mercedes-Benz C300 Coupe
2017-2019 Mercedes-Benz C63 Cabrio
2015 Mercedes-Benz C63S AMG
2018-2019 Mercedes-Benz C300
2018-2019 Mercedes-Benz C350e
2018-2019 Mercedes-Benz C63 AMG
2018-2019 Mercedes-Benz C63S AMG Cabrio
2018 Mercedes-Benz C63 AMG Cabrio
2018 Mercedes-Benz C63 AMG Coupe
2018 Mercedes-Benz C63S AMG
2018 Mercedes-Benz C63S AMG Coupe
2018 Mercedes-Benz E300
2018 Mercedes-Benz E400 Cabrio
2018 Mercedes-Benz E400 Coupe
2019 Mercedes-Benz CLS450
2019 Mercedes-Benz E450 Cabrio
2019 Mercedes-Benz E450 Coupe
Mercedes says the rear-wheel-drive vehicles have locknuts in the steering racks that may have internal cracks that can cause the locknuts to break. As soon as they break the steering will be stuck in a fixed position no matter what the driver tries to do.
Mercedes was contacted by the steering rack supplier in February 2018 concerning busted locknuts during production. The automaker opened an investigation with the supplier and determined a batch of locknuts experienced problems at a sub-supplier.
However, Mercedes believed there were no safety issues for customers because all potentially affected locknuts or steering racks would be recognized in the supplier's production process. Not a smart move because Mercedes learned about an incident where the steering fixed and locked on a vehicle in June.
The steering rack was removed and shipped to the supplier and it was determined a broken locknut caused the locked steering. Another investigation was opened to find out why the faulty locknut wasn't found during production at the supplier.
Investigators found the cracks in the locknuts never made it to the surface and couldn't be seen during quality inspection by magnetic particle testing.
Mercedes and the supplier performed more tests in October and determined the locknuts could break in situations such as if the vehicles hit curbs during parking.
The automaker also learned a driver won't receive any warning before the steering locks in position.
The Mercedes-Benz recall will begin January 25, 2019. Dealers will need to replace the steering racks that are equipped with updated locknuts.
If you have questions about the locknuts or recall, contact Mercedes at 800-367-6372.