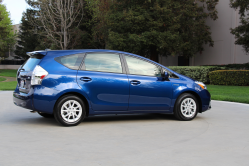 — Toyota Prius limp mode problems have caused the recall of 2.4 million 2010-2014 Toyota Prius and 2012-2014 Prius v cars, with about 807,000 of those vehicles recalled in the U.S.
The limp mode issues have plagued Toyota and caused previous Prius recalls in February 2014 and July 2015.
The Prius and Prius v are designed to enter limp mode, also called fail-safe mode, when the hybrid systems have faults. Toyota says the recall is necessary because the cars can fail to enter limp mode as intended when the hybrid systems have problems.
The cars will lose power and stall, although the automaker says power steering and braking will continue to function. Nevertheless, a car that stalls while driving is a dangerous condition, something Toyota believed it had fixed in previous recalls.
The 2014 and 2015 recalls were ordered because transistors were becoming damaged from overheating caused by the software settings for the motors and hybrid electronic control units. Errors in the software settings could cause high thermal stress in the transistors and shut down the cars.
As for this latest Prius recall, Toyota says, "The previous recalls did not anticipate this new condition remedied with this recall."
Toyota dealers will update the software for the motor/generator control electronic control and hybrid control units and the hybrid control units, but the automaker doesn't know when they will occur.
Interim recall notices informing owners of the safety risk are expected to begin October 22, 2018, then customers will receive second notices when the remedy becomes available.
If you own a 2010-2014 Toyota Prius or 2012-2014 Prius v and have concerns, call the automaker at 800-331-4331 and refer to recall number J0V.
CarComplaints.com has complaints about the cars included in the recall: