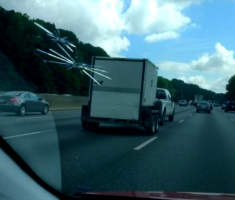 — Toyota Prius windshield cracks and chips are the focus of a lawsuit that alleges 2016-2017 models have defects that cause owners to replace the windshields, sometimes multiple times.
The proposed class-action lawsuit says the cracks rapidly spread and cause visibility problems, in addition to causing even more problems if the Prius cars are equipped with a package called Safety Sense.
The technology package includes a pre-collision system, lane departure alert with steering assist, automatic high beams and full-speed dynamic radar cruise control, features that require a front camera to function properly.
According to the lawsuit, the cracked and chipped windshields can interfere with the camera's visibility, line of sight and perceived orientation.
The plaintiffs claim the 2016-2017 Prius windshields can chip and crack not only while driving but while the cars are parked, requiring owners to replace the windshields, although Toyota allegedly tells dealers to deny warranty coverage.
The plaintiffs allege Toyota hides behind a warranty exclusion for damage to windshields caused by "road debris (including stone chips)," forcing customers to pay hundreds of dollars for windshields that are then replaced with the same defective windshields that crack again.
"A tiny pebble flipped up and hit the left edge of the windshield, starting a crack that slowly advanced rightward across the windshield. I was told there are no after-market windshields for this car and had to pay $900 to replace it. Seemed strange, but now less than three months later, it has happened again."
Another 2016 Toyota Prius driver said their windshield experienced a crack that quickly spread into a second crack.
"The car was sitting in my driveway and Monday morning, there was the first crack that started from the base of the windshield then began to spread at 90 degrees 1/4 of the way up the windshield. While trying to find someone who had a replacement for this car (supposedly on backorder and not available), a second crack started to the right of the first and also has made a 90 degree turn."
The driver complained the dealership said it knew of no problems with the windshields and the replacement cost would be about $400, but then the owner was told more money would be needed to fix camera problems caused by replacing the windshield.
"My insurance has a $500 deductible and therefore all of this will be out of pocket. I have never ever had this happen to any cars I've ever owned, especially when it is just sitting in a driveway. The dealership mentioned weather changes and or possibly something falling from a tree, but if this is the case, it seems like a super sensitive windshield that would not be very safe should I ever become involved in a crash."
According to the lawsuit, the problem is so widespread that replacement windshields are often on backorder, causing drivers to use unsafe cars or park them until they can be repaired. The plaintiffs say Toyota should have recalled the cars and reimbursed owners who paid for replacements.
One of the plaintiffs said they purchased their 2016 Toyota Prius from a Georgia Toyota dealer in 2016, but when the car had about 9,400 miles on the odometer he noticed a tiny object hit his windshield.
Plaintiff William Squires claims there is no way such a small object should damage a windshield, but a dime-sized mark appeared from the impact and an hour later he allegedly found a large horizontal crack had developed, which then caused a second crack within days.
Squires says he contacted the dealership and Toyota's corporate offices concerning the problem being covered under warranty, but the automaker allegedly denied his request and referred him to a third-party to have the windshield replaced.
Squires says he was told replacing the windshield would cost $750, a price that left him unable to have the work performed.
According to the proposed class-action lawsuit, about 200,000 model year 2016-2017 Prius cars could be affected by the problem.
The Toyota Prius cracked windshield lawsuit was filed in the United States District Court for the Eastern District of Texas, Sherman Division - Squires, et al., v. Toyota Motor Corporation, et al.
The plaintiffs are represented by Cafferty Clobes Meriwether & Sprengel LLP, Gray Reed & McGraw, and McCune Wright Arevalo LLP.
CarComplaints.com has complaints about cracked windshields in 2016 Toyota Prius cars.