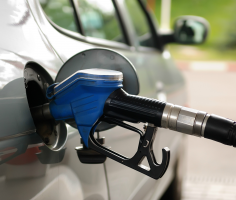 — The National Highway Traffic Safety Administration (NHTSA) and the Environmental Protection Agency (EPA) have released their proposed vehicle fuel economy rule called the Safer Affordable Fuel-Efficient (SAFE) Vehicles Rule for Model Years 2021-2026 Passenger Cars and Light Trucks.
It's the first step in setting fuel economy standards for 2021-2026 vehicles, standards much lower than created by the Obama administration.
According to the EPA, its April 2018 evaluation determined fuel economy standards should be revised for model year 2022-2025 vehicles because current standards are allegedly based on outdated information.
The EPA claims it had no choice but to evaluate current standards because the Obama administration "short-circuited" the process and released its final emissions determination just days before leaving office.
Now NHTSA and the EPA say they have had time to study the pros and cons of following current fuel economy standards and the available options included in the proposed rule.
EPA Acting Administrator Andrew Wheeler says the most recent information and data were used to create a solution that will apply to all states, creating more "realistic standards" that "can save lives while continuing to improve the environment."
Transportation Secretary Elaine L. Chao also said the new rule creates more "realistic standards" that will bring "newer, safer, cleaner and more fuel-efficient vehicles" to the roads.
NHTSA says a 2018 study shows the newest vehicles are also the safest compared to older models, with crashes in new models resulting in less injuries and deaths.
According to the Trump administration, "correcting" current fuel economy standards will remove barriers that currently block consumers from buying new safer cars.
NHTSA and the EPA claim current fuel standards are a contributing factor to the increasing cost of new cars that now average $35,000, and backers of the new plan claim keeping current standards will add more than $2,300 to the price of a new car.
EPA Assistant Administrator Bill Wherum says the Department of Transportation and the EPA estimate the proposed rule could lead to 12,000 fewer fatalities over the lifetime of vehicles built through 2029.
The proposal also claims other benefits of freezing fuel economy standards at 2020 levels, including a reduction of "societal costs" by $500 billion and savings of $253 billion from lower new car prices.
In addition to the proposed ruling, the administration says California and states that follow it should not have the ability to set different fuel economy standards than federal rules. Current regulations allow California to set its own environmental standards and a state can choose to follow California's laws instead of federal regulations.
Mr. Wheeler says the rule will "create a 50-state solution that will enable more Americans to afford, newer, safer vehicles that pollute less."
According to NHTSA and the EPA, the proposed rule will have a minimal impact on fuel consumption and the environment, but it's estimated there will be a 2-3 percent increase in daily fuel consumption. As for the environment, the government estimates the following:
An increase from 789.11 ppm (parts per million) to 789.76 ppm in atmospheric CO2 concentration in 2100.
A 3/1,000ths of a degree Celsius increase in global average temperature in 2100.
A 8/100ths of a percent increase in atmospheric CO2 concentration in 2100.
Both agencies also claim there will be no noticeable impact to net emissions of smog-forming air pollutants.
Those estimates are allegedly based on an average fuel economy rating of 37 mpg for model year 2021-2026 vehicles, compared to the 46.7 mpg for 2025 under the current standards.
As can be imagined, not everyone sees the subject in the same favorable light as the Trump administration. A group of 20 attorneys general say they will sue to prevent any drop in standards.
"The Trump administration just proposed rolling back limits on car pollution. If the rule is finalized, our coalition of 20 AGs will go to court to put the brakes on this reckless and illegal plan." - New York Attorney General Barbara Underwood
Underwood says weakening the standards will harm the health of children and seniors while increasing the cost of climate change for every state.
Fred Krupp, president of the Environmental Defense Fund, said the proposal will cost the average family hundreds of dollars a year extra for gas, all while increasing air pollution.
"The Trump administration's proposal to slam the brakes on America's successful Clean Car Standards is a massive pileup of bad ideas."
And one Vermont driver chimed in when told of Trump's estimates of savings with "societal costs" and administration claims about the minimal environmental impact.
"It's going to save $500 billion in 'Societal Costs'? Well, I'd rather pay extra for a fuel efficient car versus one that gets 18 mpg but can order an iced mocha whenever I'm within 2 miles of a Starbucks. Meanwhile VT just had the hottest July on record."
NHTSA and the EPA are accepting public comments for the next 60 days to listen to alternatives and ideas from U.S. consumers.