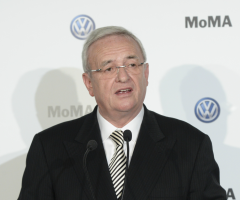 — Martin Winterkorn, the former CEO of Volkswagen, has been charged by the U.S. Justice Department over claims of conspiracy and wire fraud related to VW's yearslong illegal emissions scheme.
Volkswagen fooled emissions regulators and consumers for at least seven years by secretly installing "defeat devices" in about 500,000 vehicles in the U.S., with millions of additional vehicles affected across the world.
The special software recognized when a 2-liter diesel vehicle was undergoing lab testing on a dynamometer. In this condition the vehicle appeared to meet all federal and state emissions standards. However, the vehicle was in fact emitting up to 40 times above the legal standards for nitrogen oxides once it was driven under normal road conditions.
According to federal prosecutors, Winterkorn, 70, is charged with conspiring with VW executives and managers to defraud consumers and regulators by claiming Volkswagen's "clean diesel" vehicles complied with federal laws. In addition, for years the diesel vehicles were marketed and sold as good for the environment when Winterkorn allegedly knew the opposite was true.
Prosecutors said it's appalling that senior management gave its blessing to criminal conduct believing they wouldn't be held accountable. In reality, they weren't held accountable for years as the Environmental Protection Agency (EPA) failed to spot the deception.
Not until researchers at West Virginia University, working with the International Council on Clean Transportation, noticed the emissions discrepancies did the EPA finally catch on.
Winterkorn denied any role in the scheme he said was really perpetrated by a few rogue engineers, but prosecutors allege memos from Winterkorn prove he knew about the activity.
U.S. prosecutors claim Winterkorn knew about the illegal activity as early as May 2014 and chaired a July 2015 meeting in Germany referred to as the "damage table meeting" that described the consequences if the automaker was caught cheating on emissions tests.
Winterkorn's indictment follows indictments against eight other VW managers and executives, including former engineers James Liang and Oliver Schmidt, who pleaded guilty to conspiracy charges.
Liang, who prosecutors used to gather insider information about the conspiracy, landed in prison for 40 months. Schmidt, who was arrested at a Miami airport as he was heading back to Germany, is currently serving a sentence of 84 months.
The sole reason those two are doing time is because they were still in the U.S. when the indictments were handed down, but seven of the remaining individuals are in Germany and will never need to spend one day in a U.S. jail.
Germany won't extradite its citizens to the U.S., meaning Winterkorn and all but one of the others are in the clear as long as they stay in Germany.
The remaining indicted individual, Giovanni Pamio, could possibly be extradited to the U.S. from Germany because he is a citizen of Italy.