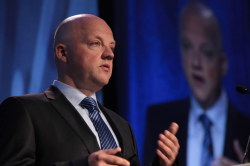 — Former Volkswagen manager Oliver Schmidt has been sentenced to 7 years in prison and fined $400,000 his role in the automaker's scheme to defraud the U.S. government and consumers.
Schmidt, the former general manager of Volkswagen's U.S. Environment and Engineering Office, was part of a team of people who concealed knowledge of illegal emissions "defeat devices" installed in about 600,000 diesel vehicles in the U.S.
VW used the devices to fool environmental regulators and their machines for at least seven years, giving the impression the "clean diesel" cars met all environmental standards. In fact, those vehicles were emitting up to 40 times the legal limits of nitrogen oxides, not exactly "clean" or good for the environment.
Schmidt was originally indicted with five other VW employees: Heinz-Jakob Neusser, Jens Hadler, Richard Dorenkamp, Bernd Gottweis and Jürgen Peter. However, as German nationals, none are likely to face the U.S. justice system as Germany won't extradite its citizens.
According to Mr. Schmidt, at least eight law enforcement officers arrested him on the toilet of a Miami airport and led him in handcuffs to his wife, something Schmidt says was a complete humiliation, but one that was surpassed by the "public shaming" that followed.
Schmidt was initially charged with 11 felonies and was looking at nearly 170 years in prison, but by agreeing to plead guilty, he was charged with conspiracy to defraud the U.S., committing wire fraud and for violations of the Clean Air Act. Additionally, Schmidt agreed to be deported at the end of his prison sentence.
As part of his guilty plea, Mr. Schmidt admitted he knew in the summer of 2015 about his company installing the illegal emissions "defeat devices" on diesel vehicles, then he withheld that information from federal officials during calls and meetings.
Schmidt told the judge that sitting in jail nearly a year has been the hardest time of his life and his mugshot is now the face of the Volkswagen emission scandal. Saying that he was embarrassed and ashamed to be standing in court, Schmidt told the judge he felt misused by his own company.
Before sentencing, Schmidt's attorney told the judge that many others were more culpable than Mr. Schmidt and asked for a maximum sentence of 40 months and a $100,000 maximum fine.
Although defective ignition switches used by General Motors killed and injured hundreds of consumers, not one GM employee or member of management was sentenced to prison. On the other hand, U.S. prosecutors say Volkswagen's sins involved crimes against consumers, and "environmental crime."
"This sentence reflects how seriously we take environmental crime. Protecting natural resources is a priority of this office. Corporations, and individuals acting on behalf of corporations, will be brought to justice for harming our environment." - Acting U.S. Attorney Daniel L. Lemisch
"Oliver Schmidt cheated the American people, and today's sentencing shows that such behavior will be prosecuted to the fullest extent of the law. The Department of Justice and its partner agencies will continue to work together to ensure a level playing field for all competitors and a cleaner environment for all Americans." - Deputy Assistant Attorney General Jean E. Williams
In addition, the Environmental Protection Agency (EPA) says the case demonstrates the "EPA is committed to ensuring a level playing field for companies that follow the rules and pursuing individuals whose actions create an unfair competitive advantage for their employer."
The EPA has been under fire since Volkswagen's illegal actions came to light because environmental regulators didn't catch the fraud that went on for at least seven years.
The EPA took a lead role against VW, but only after the automaker was caught by researchers at West Virginia University who were working with the International Council on Clean Transportation.
The yearslong "we-didn't-know" blunder led to an announcement earlier this year that the Office of Inspector General for the EPA was preparing to investigate if the EPA is even capable of detecting and preventing emissions fraud.
Oliver Schmidt isn't the first Volkswagen employee to see the inside of a courtroom, as former VW engineer James Robert Liang, 62, pleaded guilty to Department of Justice criminal charges in 2016 for his part in creating and hiding the defeat devices. Liang was sentenced to 40 months in prison and fined $200,000.
Also charged by U.S. prosecutors is former Audi manager Giovanni Pamiofor for conspiracy to defraud U.S. regulators and customers. Pamiofor is an Italian citizen living in Germany, so it's possible he may not be always protected by Germany like the other indicted VW employees.