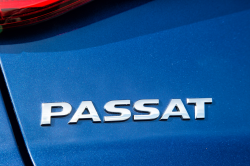 — More than 71,000 Volkswagen Passats are recalled to replace Takata airbag inflators with inflators that don't contain ammonium nitrate, the chemical that causes Takata inflators to explode.
VW says this should be the final fix for the 2006-2007 sedans and wagons because the replacement inflators contain the chemical guanidine nitrate (GuNi) instead of the dangerous ammonium nitrate.
The automaker says some Passats already had their Takata inflators replaced with inflators that do contain ammonium nitrate, but those inflators have a desiccate to absorb moisture. This will allegedly prevent the chemical from becoming unstable and susceptible to ruptures.
The recalled cars will have their driver-side frontal airbag inflators replaced when the recall begins April 30, 2018.
If you own a 2006-2007 VW Passat and have questions about the recall, contact the automaker at 800-893-5298 and use recall number 69Q8.
CarComplaints.com has complaints about the 2006 Volkswagen Passat, 2007 VW Passat and other model years of Passat cars.