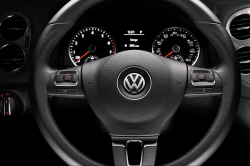 — Volkswagen is recalling 3,768 Tiguan Limited SUVs because they are equipped with the wrong steering wheels and frontal airbags.
This will cause the 2017-2018 Tiguan Limited airbags in the steering wheels to fail in a crash.
Volkswagen found an issue at the factory in January 2018 with the wrong steering wheel airbag modules installed in U.S. Tiguan Limited SUVs, causing the automaker to issue a stop order and open an investigation into why the wrong parts were used.
VW determined an incorrect parts list was used at the factory that caused workers to install the wrong steering wheels and associated airbags. Volkswagen calls these the "rest of the world" parts because they are not to be used in vehicles for sale in the U.S.
The Tiguan Limited recall is expected to begin April 10, 2018. Volkswagen dealers will replace the steering wheels and driver frontal airbag modules.
SUV owners with questions should call 800-893-5298. Volkswagen's number for this recall is 69V2.
This isn't VW's first time admitting it installed "rest of the world" parts in U.S. vehicles as the automaker previously recalled CC cars with the wrong head restraints.