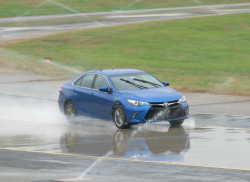 — New research shows the battle between worn tires vs. new tires has only one clear winner, and the choice of which tires to run on can cost you and your family dearly.
With the July 4 travel day quickly approaching and expected to break records, drivers should pay special attention to their tires, even more so if those tires are worn and if you're driving on wet surfaces.
Based on the latest research from AAA, engineers determined the combination of worn tires and wet road conditions can increase average stopping distances by an incredible 43 percent compared to the exact same test with new tires.
For the test, researchers used new all-season tires and old tires worn to a tread depth of 4/32" on wet pavement. The results showed worn tread caused an average longer stopping distance of 87 feet for a car and 86 feet for a light truck.
But while a driver will be coping with trying to get the vehicle stopped, the worn tires will cause a 33 percent reduction in handling ability for a car and 28 percent for a light truck.
"If tested side-by-side at 60 mph, vehicles with worn tires would still be traveling at an alarming 40 mph when reaching the same distance it takes for vehicles with new tires to make a complete stop." - AAA
Safety researchers found how the tires perform can vary by brand, but going by price alone would be a serious mistake because worn tire performance dropped significantly for all tires tested.
AAA says government regulations don't go far enough to keep drivers and occupants safe. Tire tread laws vary by state and go from inadequate to non-existent, according to AAA researchers. And current guidelines recommend that drivers wait to replace tires when the tread depth reaches 2/32".
However, AAA recommends tires should be replaced once the tread depth reaches 4/32" because by that time stopping distances have already drastically been altered.
Checking if your tread is safe on wet pavement isn't difficult. Put an upside-down quarter in the grooves of your tires and if you can see all of Washington's head, it's time to buy new tires.
In addition to stopping distances, the depth of the tread is everything if the vehicle hydroplanes on a wet road, causing the tires to completely lose contact with the road. But you can take certain measures when traveling on wet surfaces, especially if you've seen all of Washington's head.
Activating cruise control should be skipped so you can be on top of things if the tires lose traction. Other common sense measures include increased following distances behind other vehicles to buy more time if the brakes must quickly be used.
And if the tires do hydroplane, ease off the accelerator and steer in the direction you want the vehicle to go without forcefully slamming on the brakes.