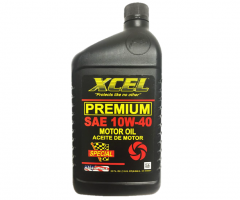 — An XCEL motor oil lawsuit alleges 10W-40, 10W-30, 20W-50 and 15W-40 products made by the Amalie Oil Company should not be used in engines built after 1930.
Plaintiff Brandon Opalka filed the proposed class-action lawsuit on behalf of Florida consumers who bought XCEL oil to be used in vehicles manufactured after 1930.
XCEL motor oil is sold throughout Florida at gas station chains and also at retailers such as Sam's Club, but the lawsuit alleges the oil is considered "obsolete" by the American Petroleum Institute (API).
Plaintiff Opalka says he purchased a bottle of XCEL Premium SAE 10W-30 oil in 2017 but wouldn't have if he would have known the oil wasn't made for his vehicle. The lawsuit doesn't allege he used the oil or that it damaged his vehicle, but the plaintiff says he filed the class-action because he lost money on the bottle of oil.
The plaintiff claims API calls older motor oil ratings "obsolete" because the oil won't protect modern car engines. According to the lawsuit, in 1947 the API first declared SA-rated oil as obsolete because it was made for engines manufactured prior to 1931.
SA-rated oil is called a "base oil" because it doesn't have any additives and cannot handle engines developed after 1930.
Amalie allegedly knows it sells obsolete oil because the plaintiff claims an executive admitted as much in a 2003 interview.
"We would rather not sell non-detergent oil. There's no question that it's not good for today's engines. I tell people, 'It's not going to give your car a heart attack. It's more like cancer.' But a lot of people are only concerned with price and they'll buy that stuff because it's 30 cents cheaper. And as long as people are going to buy non-detergent oils, and other companies are going to sell them, we feel like we have to compete." - Amalie Senior Vice President of Sales and Marketing Dennis J. Madden
Based on court documents, the XCEL motor oil will cause catastrophic engine failure because the oil lacks detergent and additives used to protect modern engines. The "worthless" oil does nothing but cost Florida consumers money by using product labels that allegedly conceal how obsolete the oil really is.
The label on the front of the motor oil bottle allegedly omits important information relevant to consumers driving vehicles built after 1930. Nothing on the front label admits additives are missing and the front label doesn't warn consumers about using the oil in modern engines.
"The only apparent difference between the Product and other, non-harmful motor oils, is the price, as the Product is cheaper than current-specification motor oil." - XCEL lawsuit
Not until a consumer reads the back label do they see, in small print: "CAUTION: This oil is rated API SA. It contains no additives. It is not suitable for use in most gasoline powered automotive engines built after 1930. Use in modern engines may cause unsatisfactory engine performance or equipment harm."
The plaintiff claims no reasonable consumer would risk their engine just to save a dollar on motor oil. In addition, most consumers allegedly don't take the time to read the small print on back labels and even if they did, the back label of the motor oil contains no adequate warnings.
The XCEL motor oil lawsuit was filed in the U.S. District Court for the Southern District of Florida - Brandon Opalka, et al., v. Amalie AOC LTD.
The plaintiff is represented by Kozyak Tropin & Throckmorton, LLP, Kanner & Whiteley, and the Casey Law Firm.
The XCEL motor oil lawsuit filed in Florida is very similar to an ongoing class-action against Dollar General stores that allegedly sell motor oil not fit for engines made after 1930.