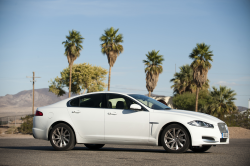 — Gas smells in 2010-2012 Jaguar XF cars caused a recall in 2012, but federal safety regulators are investigating if those recalls adequately fixed the cars.
The gas odors are caused by leaking fuel from cracked fuel tank outlet flanges in the 2010-2012 Jaguars equipped with 4.2-liter or 5-liter engines. In addition to the smell of fuel, some XF customers said they noticed fuel underneath the rear of the cars when they were parked.
Leaking fuel in the presence of an ignition source is never a good idea.
The cars were manufactured December 2008 through January 2010, or they were equipped with replacement fuel outlet flanges.
The 2010-2012 XFs have returnless fuel systems with fuel filters built into the fuel outlet flanges. Jaguar says the flange seems to crack in a high-stress region near the center of the filter cartridge dome that surrounds the base of the fuel outlet port.
A Jaguar XF recall was ordered in 2012 but limited to 5-liter cars because the fuel system operating pressures were greater for those engines and were found to create greater stress in the area that leaked fuel.
Jaguar had redesigned the fuel outlet flange with better internal reinforcement of the fuel filter cartridge dome and those redesigned parts were used for the previous recall.
But the National Highway Traffic Safety Administration (NHTSA) has received 30 complaints about the XF cars and all the complainants say gas smells and leaks have continued after the cars were allegedly repaired.
Nineteen complaints were filed about 2010 XF cars equipped with 4.2-liter engines and 11 complaints came from drivers of 2010-2012 Jaguar XFs equipped with 5-liter engines.
NHTSA says its investigators need to determine why the complaints have been filed and if Jaguar needs to do more to repair more than 21,700 cars.
CarComplaints.com will update our website with results of the Jaguar XF investigation.